Tribulus (Gokshura), Saffron (Kesar), Almond (Vatada)
Key Ingredients

Ayurveda texts and modern research back the following facts
Tribulus (Gokshura)
Tribulus (Gokshura )is beneficial in erectile dysfunction. Protodioscin, a precursor of testosterone found in Small Caltrops, is converted to dehydroepiandrosterone (DHEA) in the body, which improves flow-mediated dilation of the penile arteries. This results in the relaxation of vascular smooth muscles, which enhances erection.
Saffron (Kesar)
Saffron (Kesar)- Saffron is traditionally known for its aphrodisiac action. It also exhibits anxiolytic and anti-oxidant properties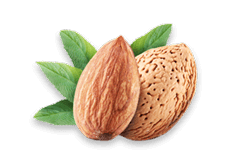 Almond (Vatada)
A rich source of proteins, and antioxidant nutrients, Almond helps nourish and condition the hair.